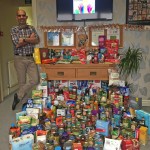 Every December, members of the United Chiropractic Association (UCA), including Drs Glenn and Laura, donate a day's work by providing chiropractic adjustments in exchange for food parcels. This year, we are supporting Shrewsbury Food Bank PLUS at Barnabas Community Projects.
One in five people in the UK – that's around 13 million – are now living below the poverty line.
What this means in practice is that, too often, choices have to made between heating the house and buying food, paying the rent and eating.
One in five parents have skipped meals or gone without food so their children can eat.
Many people live just one crisis away from having to make these difficult decisions: redundancy, a late benefit payment, an unexpected repair bill, Christmas – any of these things can make the difference between just about scraping through and not being able to afford a trip to the supermarket to buy even the basics. Food banks help families through these difficult times by providing food parcels and they rely on donations to do so.
This year, we are proud to be supporting Shrewsbury Food Bank PLUS – a self-funded charity that works with the people of Shropshire to serve the community.
Shrewsbury Food Bank PLUS are so much more than just a food bank. As well as providing much needed food parcels in exchange for vouchers, they also give support in lots of other ways:
360 Journey to Health- Gardening project, promoting a healthy life and developing confidence
360 Journey to Work- Life skills course and breakfast drop-in
360 Journey to Health- Cookery course, introduction to preparing tasty & healthy meals from scratch on a budget
Barnabas Money Advice- A free, unconditional, face-to-face personal debt advice service
For more information about the wonderful work Shrewsbury Food Bank PLUS do, you can visit their website here.
We think this is a great project that deserves as much support as it can get. We would therefore love it if you would join us for an adjustment visit on Thursday 1st December in exchange for a £30 food parcel instead of your usual cash payment. Whilst you are here, Tracy & Nancy will have the kettle on for a cuppa, a mince pie and a chance to have a natter.
Not only that but, if you have a friend or family member who you think could benefit from chiropractic, from 28th November to 2nd December 2016 we are offering any new patients an initial consultation in exchange for a £30 food parcel. This will save anyone you refer £15 as well as allowing them to help someone else this Christmas.
Finally, even if you are not booked in on 1st December, you are also very welcome to donate and we will gladly pass your donation on to the food bank.
Donations can be luxury Christmas treats or day-to-day essentials, not necessarily just food. 'Feel good' items such as shampoos and body washes are also good, as are nappies, toilet roll and laundry powder. Food should be non-perishable (think tins and cartons) with a best before date of at least 6 months. Also useful for people who have no way of cooking are individually wrapped and single portion foods such as small packs of cereal, ring-pull tins of meat, long-life breads, brioche and croissants. Here are some things that are particularly in demand:
Tinned sandwich meat
Long life milk – semi-skimmed (high demand)
Shampoo
Shower gel
Orange squash
Custard
Jam and marmalade
Tinned rice pudding
Tinned veg (carrots/peas)
Tinned potatoes
Pasta sauce
Laundry powder/tablets
Toothpaste
Nappies sizes newborn-2, 4+ and 5
Baby wipes
Toilet rolls
Bags of crisps
Biscuits
(Please no baked beans, pasta or tinned fish)
With your help, we will be supporting some of the most vulnerable people in the local area this Christmas.
To book your visit on 1st December, just give us a call on 01743 588190.
We look forward to seeing you soon.