So what does a chiropractor do on the weekends?
Well when you are passionate about health and wellness, then you attend seminars and conferences to stay on top of the ever changing world of health. No, we don't it every weekend but on the 27-28th June 2015 there was one conference I couldn't miss. I was fortunate enough to attend a conference in Epsom, Surrey at my good friend's wellness practice known as Core Wellness Centres. Dr Joe-James Tilley and his fiancée & business partner Zoe presented a jam packed weekend of inspiring information about creating a wellness centre. Presenters at the seminar included Dr Robert Silverman from New York and Dr Dane Donohue – the co-developer and founder of 8 weeks to wellness.
Core Wellness Centres was the first centre here in the United Kingdom that offers an amazing health reforming programme called 8 weeks to wellness (8WW), which is a health inspiring programme that incorporates Chiropractic, massage, exercise, nutrition, yoga and meditation.
High Intensity Interval Training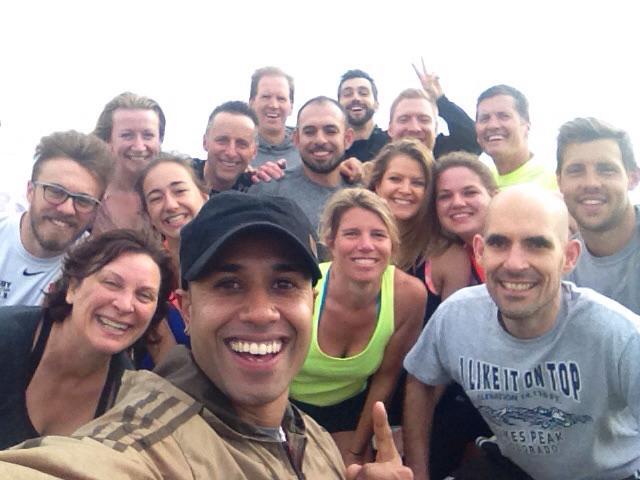 During the seminar we participated in an early morning high intensity interval training workout to see how they utilised exercise in the 8WW programs (see photo). Notice the smiles? That's post work out too!
High intensity interval training involves undergoing a physical activity at an intense level, usually between 80-100% of your maximum heart rate for an interval (it was 2 minutes for us) followed by a short rest period (1 minute). The whole work out only took 30 minutes and we felt more energised, which is a great way to start a day when you're going to be in a classroom for the rest of it, hint hint students and office workers.
Chiropractic Lifestyle
Chiropractic care on its own is a fundamental requirement if anyone is to perform at their absolute best. But by incorporating this vital neurological stimulating approach alongside a specific nutritional, physical and mental fitness regime then the chances of reaching ultimate wellness goals can be more achievable – In my profession we refer to this as a 'Chiropractic Lifestyle' and we ensure our own personal choices are in line with this concept where possible. The simple saying coined by Dr James Chestnut "Eat well, Move well, Think Well" really sums it up and covers all of the fundamental requirements of a healthy 'chiropractic lifestyle'.
If you're inspired to reach new health and wellness goals but need more information and a helping hand, be sure let your vitalistic chiropractor know so that they can coach you through a life changing transition to amazing health.
Stay tuned! On the 24th July 2015 Dr Glenn will be heading down to Heathrow, attending the 3-day Chiropractic BioPhysics seminar focusing on the neck and how to analyse whiplash conditions.