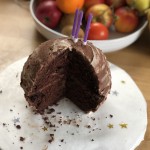 This has become our go-to birthday cake recipe! Thank you www.beamingbaker.com! After Isla's party, I was asked for the recipe multiple times so I thought you might like to try it too. It is rich and moist, yet dense enough to carve into the required birthday cake shape! So far this year we have turned this cake into a sandcastle (for Glenn's birthday), a unicorn decorated with fresh fruit (for Isla's party) and a planet (for Isla's birthday). We would love to see pictures of your creations!                                                  Ros
Dry Ingredients
3 cups gluten free oat flour – (just grind oats in your food processor or high rpm blender)
1 1/3 cups unsweetened cocoa powder
2 teaspoons baking soda
½ teaspoon salt
Wet Ingredients
1 ¼ cups water
1 cup non-dairy milk
¼ cup + 2 tablespoons melted coconut oil
½ cup coconut sugar
½ cup pure maple syrup
2 teaspoons vanilla extract
Icing
2 tins coconut cream (I recommend Biona as the flavour is delicious – you can buy it from Snapdragon Wholefoods in the Market Hall in Shrewsbury).
Sweetener to taste (maple syrup, honey, coconut sugar, icing sugar)
1 tsp vanilla extract
Optional, for chocolate icing: 1 or 2 tbsp cacao or cocoa power to taste
(See web-link below for an alternative chocolate ganache-style icing)
INSTRUCTIONS
Prepare the icing: The night before put 2 (or 3, just in case!) tins of coconut cream in the fridge to chill.
Make the cake: Preheat the oven to 350°F. Line two 8 or 9-inch round cake tins (I used two 6-inch hemispherical ones this time) or prepare as follows: coat with softened coconut oil, then dust completely with cocoa powder. Set aside.
In a large bowl, sift together the dry ingredients: oat flour, cocoa powder, baking soda and salt. Set aside.
Heat water and milk gently until just warm. This will prevent the melted coconut oil from solidifying once mixed with these liquids.
In a medium bowl, whisk together all wet ingredients: water, milk, coconut oil, sugar, maple syrup and vanilla. Whisk until well incorporated. Add wet ingredients to dry ingredients. Whisk until just incorporated, making sure no flour patches remain.
Pour batter evenly into prepared cake pans. Tap the pans several times to even out the batter and release bubbles that have formed in the batter. Bake for 22-26 minutes, until a skewer or toothpick comes out clean.
Allow to cool in tins for 25 minutes before turning out onto a cooling rack. Allow cake to cool completely before frosting (about 1 hour).
Icing the cake: The night before, put 2 or 3 cans of coconut cream in the fridge to cool. Once chilled, scoop off the cream and whisk it up with sweetener of your choice (just taste it and make it as sweet as you wish!) – and 1 tsp of vanilla extract. For chocolate icing, add a tablespoon or two of cacao or cocoa powder as well. For a rich chocolate ganache-style icing, use the frosting recipe provided with the cake recipe at: https://beamingbaker.com/vegan-chocolate-cake-recipe-vegan-gluten-free-dairy-free-refined-sugar-free/
Enjoy!