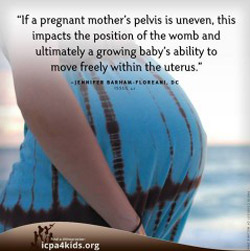 Shrewsbury, Shropshire, June, 2015 Dr. Glenn Fredericksen has recently completed the requirements of the International Chiropractic Paediatrics Association (ICPA) Perinatal Care 12 hour course.
The Webster Technique
This course, developed and instructed by Dr. Jeanne Ohm, covers technique, case management and evidence informed practice for pregnancy, birth and infancy. The program also reviews common disorders in pregnancy, chiropractic co-management with other birth care providers, safety, efficacy and contraindications as well as certifies practitioners in the Webster Technique.
The Webster technique is a specific chiropractic analysis and diversified adjustment. The goal of the adjustment is to reduce the effects of sacral subluxation/SI joint dysfunction and in doing so, improve neuro-biomechanical function and balance in the pelvis. In the care of pregnant women, sacral subluxation may contribute to difficult labour for the mother (i.e. dystocia). Dystocia is caused by inadequate uterine function, pelvic contraction, and baby malposition. The correction of sacral subluxations may have a positive effect on all of these causes of dystocia.
"In a theoretical and clinical framework of the Webster Technique, it is proposed that sacral misalignments may contribute to these three primary causes of dystocia via uterine nerve interference, pelvic misalignment and the tightening and torsion of specific pelvic muscles and ligaments. The resulting tension and their aberrant effect on the uterus may prevent the baby from comfortably assuming the best possible position for birth. The Webster technique has been shown to be a safe and effective chiropractic analysis and adjustment throughout pregnancy. Having cared for pregnant women for 30 years in my own practice, I have witnessed countless women experiencing greater comfort and safer births because of this care. I highly encourage mothers-to-be to seek out doctors who are trained in the Webster technique for their special needs in pregnancy."Dr Jeanne Ohm
Dr. Fredericksen, is a 2009 graduate of the , New Zealand College of Chiropractic and currently practices at Shrewsbury Family Chiropractic, New Park House, Brassey Road in Shrewsbury, Shropshire specializing in both wellness and family care. For further information or for appointments Telephone 01743 588 190 or click here to contact us.