Twice a year in India the Sant Nirankari Mission hold a samagam (gathering) which attracts up to 1.5 million participants attending to gain a greater knowledge of God through the non-denominational spiritual teachings of the mission. Since 2013 Life Chiropractic College West in California has collaborated with the mission to provide chiropractic care to thousands of attendees of the samagam.
Through Life Chiropractic College West and t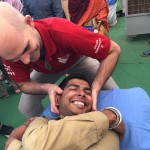 he Indian Association of Chiropractic Doctors (IACD), chiropractors may apply to join the team and volunteer at the samagams. One of the regular attendees, Marc Hudson of ChiroEurope helps a group of European chiropractors participate in this life-changing experience.
From 25th to 27th January 2019, I attended the Sant Nirankari Mission's samagam in Mumbai. I was one of 60 chiropractors from 15 different countries at the samagam providing much wanted and needed care. Over the course of the 3 days, approximately 10,000 people were checked and adjusted, with the aim of helping each and every one of them live a happier, healthier more connected life.
The population of India is over 1.3 billion and that there are only 10 full-time chiropractors practising there. India is an ancient land steeped in tradition and deeply connected to a rich and vibrant history. The people of India are well-versed in eastern philosophy and very receptive to the vitalistic message of chiropractic. We found that people of India understood our philosophies and were eager to experience what chiropractic can offer.
The mission site itself is a sea of tents made by scaffolding and canvas, literally a temporary city to house and feed up to 1.5 million. The chiropractic tent would have been in excess of 200m2 and all our needs were catered for. There were about 50 chiropractic tables in a square room with cooling fans everywhere. Prior to entering the tent there were 2 smaller rooms where our new patients would learn what chiropractic was about and what they could expect from their experience with the chiropractor. Lynn McAvenia is the genius behind giving these small (literally a couple of minutes) health talks, hundreds of times per day to groups of about 30 people per talk. Without Lynn's dedication, the flow of the event and the number of people seen surely couldn't have been so great.
Seeing patients with the aid of a translator creates a whole new challenge to embrace, but with the help of veterans of the mission you quickly learn what works well. There were over 100 volunteers helping us within our make-shift practice. If you can imagine 160 personnel all talking with many cooling fans humming in the background and a constant voice over the tannoy speakers explaining what is happening at the samagam, then you can picture the atmosphere. Yet I was able to completely block out all noise, heat, dust and distraction while I was adjusting. I felt like I was in a complete trance of focus, where all of my energy went into giving a life-changing adjustment.
There was such an array of people that visited the tent; this is in part down to the mission's ideology, that everybody is equal regardless of cast, class or colour. I saw some people that had never had the opportunity to see a health professional in their life and a wealthy Londoner side by side.
During the weekend we saw people with paralysis regain a little movement in a limb and some even take a few steps and stand on their own. A couple of nonverbal patients spoke for the first time, albeit unrecognisable words, but words nonetheless. There were countless stories of children with that glazed-over look in their eyes, as though they are not cognisant of the world, suddenly awakening and beaming with life.
One young man that touched my heart was about 25 years old. He had Pectus Excavatum (a structural deformity of the thorax and ribs). His posture was affected and he was looking for help. Over the weekend he was looked after 3 times, first by Dr Soraya of Spain and then myself. He spoke a little English and the reason why he stood out from the hundreds was that, even at his age, he was still being bullied because of his appearance. Thanks to chiropractic that weekend, he noticed an immediate change to his posture and he visibly changed into a happy, confident man. He spoke out during his last visit with me, saying, "They can't bully me anymore because of how I stand, they won't be laughing at me. I will be laughing with them from now on". I was so happy to watch this man feel liberated from such an emotional stress that had clearly been effecting him. He was delighted to know that he could return for another check-up at the next samagam.
As a chiropractor serving at the samagam I was humbly surprised at the reception given to us and the gratitude for our presence. We were also the only external group of professionals at the samagam offering services to the attendees. There were other healthcare-related groups, but they came from within the mission. On the final day, we were taken to a tent where they stored the samagam's food stores. It had been decorated specially for the chiropractors and a wonderful dinner had been prepared in our honour.
Following the mission I was mentally processing the experience and what was different about looking after people there versus at my practice. There is certainly a different kind of energy that is produced in the tent; it was an atmosphere that brought everyone together. We were there for one purpose; chiropractors, volunteers and patients alike were there with a desire to be connected within. Everyone in the tent understood that by having a healthy, well-aligned spine with an optimal flow of nerve energy, they would experience a life with more ease. There was also an acknowledgement that through a universal intelligence we were connected together and that if we are all able to function as healthier beings then the community would flourish as a whole. None of this was spoken about, it was more of an energy that was abundant like the dry dust flowing through the air. They still came with pain but they understood we were focused on delivering something more to them than just pain relief and they were more than ready to receive something big from their adjustments.
Overall, this was an amazing and enjoyable experience, one that I would most certainly repeat. I am deeply grateful to Marc Hudson and Lynn McAvenia for making it possible for me to attend.
Links:
https://lifewest.edu/the-india-mission/