On Sunday 17th J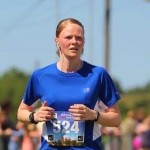 une, I will be running the Shrewsbury Half Marathon. It's been a long road since I broke my ankle back in October – lots of hours in the gym doing rehab and strengthening my ankle – sometimes I thought I'd never get to this point but here we are – just three weeks to go!
I've learned a lot so, over this last three weeks, I thought I'd share my training routine with you. I hope to inspire you, of course, but I also want you to know that it's not always an easy ride back to health and fitness.
Almost every morning, even now, I feel some form of tension or stiffness in my calf, achilles and ankle so, almost as soon as my cast came off, I have started most days with some form of yoga. As a chiropractor, I am on my feet all day so this stretching routine is key for me to be able to work comfortably. In fact, I now love starting the day with yoga; stretching my body and preparing for my day in the office – it's a great way to become centred and focused first thing in the morning.
Of course, my training routine also involves a lot of running! It took a long time for my ankle to be flexible and strong enough to be able to start running again safely but in early March, nearly 5 months after I broke my ankle, I started the beginner's couch-to-5km course with the Dolly Mixtures running group. Before this, I had only been able to do some cycling in the gym – but it's just not the same as running!!
So my training routine goes like this:
Mondays are with the Dolly Mixtures, where I am now a leader. Each week is different, sometimes a gentle run, sometimes something more challenging. And in a few weeks we plan on putting the ladies through their paces with a 'Hill Run' session! They are going to love me!!
Wednesday mornings (and they are early at the moment with the hotter weather!) are for me to push myself and see how well I can run 6 miles. Over the past few weeks I have been slowly improving which is really helping me look forward to the big day itself.
Thursdays and Fridays I have sessions with Ben, my Personal Trainer. He's a great trainer – doesn't take no for an answer, and it's not unheard of for me to swear at him! Thursdays tend to be about flexibility and mobility which is a great recovery session after Wednesday's 6 miles. Fridays is always different… it can be anything from a hard core strength training session, to a session focused on creating power and strength through my running technique. A few weeks ago I looked daft jumping off, onto and over different obstacles – all to get my ankle stronger.
Sundays are for my longer run in the week. I am slowly increasing the distance each week so that I'll be able to run the full 13.1 miles on race day – this week it will be 9 miles. I TRY and run nice and steadily but I do have a tendency to get carried away and run faster than I should!
On top of all the physical and strength training I also make sure I see my chiropractor for a check and an adjustment every week (usually on a Friday but it depends on when Glenn and I are busy). Glenn checks me over so I know my nervous system and body are working at their very best. At times we have worked hard on my ankle flexibility and proprioception* with Glenn adjusting my ankle, but it's now functioning well enough that Glenn just keeps an eye on it.
*Proprioception is the body's ability to know where it is in space – close your eyes and you know where exactly your fingers are. Immobilisation (like wearing a cast for 6 weeks) reduces a body parts ability to tell the brain where it is. This communication all happens through the nervous system, which is why adjustments are so important to helping improve proprioception.
This is my training diary for last week and, if you want to follow my progress, please follow us on social media.
Monday 21st May
Evening run with the Dolly Mixtures – very hot so we had fun with a everyone running the same route, at their pace, on a 'social run'. We covered 3.3 miles and had a lovely time chatting and getting to know each other more.
Tuesday 22nd May
Morning yoga – I love doing this first thing to get my mind and body ready for the day ahead.
Wednesday 23rd May
It was promising to be another hot day, so I was up and out before 8am to beat the heat. I run the same 6 mile route every Wednesday and see how well and how fast I can run it – this week was a personal best and felt pretty good!
Thursday 24th May
Morning yoga followed by a mid-afternoon session with Ben (my Personal Trainer). Thursday's sessions are a combination of flexibility and specific strengthening exercises, including plenty that involve balancing to help with my proprioception – don't want to trip over during the half marathon! To finish this session we go through a series of drills to make sure my gait and running style is on point. They are sometimes boring but over the weeks, there's been a vast improvement.
Friday 25th May
Morning yoga then my Friday session with Ben. This session is all about plyometrics which involves lots of quick stretching and contracting of muscles, designed to build strength. This type of rehab is key to me being able to run efficiently and safely so Ben had me jumping off, over and onto different things – mainly boxes and hurdles. This is quite a taxing session with lots of rest in between sets.
Saturday 26th May
Morning Yoga before work then over to my parents where we managed a 4.5 mile hilly walk through fields and meadows. We found a break in the weather and managed to take some fab pictures!
Sunday 27th May
Sunday is usually my 'long run' day but with the thunderstorm, I decided to skip this and do it on Monday.
Follow us on social media for my training updates over the next three weeks. And, of course, I'd love to see (or hear) you cheering me on as I run the route on the 17th June.
Dr Laura Beaumont