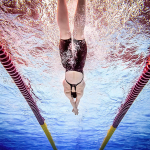 I am Ellinor Southward and I'm a 17-year-old, currently sitting my A Levels at Ellesmere College. I swim for the Titans and have represented both England and GB at international level winning 1 gold, 3 silvers and 2 bronzes whilst representing my country! I train 25+ hours a week (including pool time, gym and running!) but in my spare time I love to bake, read and go out with my friends.
I originally came for chiropractic care because my dad recommended it to me; constantly pushing yourself at training can put your body under a lot of stress, and chiropractic really helps me to manage that. I'm happy I took my dad's advice!
I didn't know much about chiropractic before the introductory talk, I just thought it was a satisfying way to click your neck…but it's so much more than that! Coming to the practice has made me so much more aware of my body but especially my posture. I love coming for treatments because it's such a positive place and I always leave feeling better, both physically and mentally.
I am heading out to Missouri State University in August on a swimming scholarship, and I will be there for 4 years. It's such an exciting opportunity for me, and I hope to continue my chiropractic treatment whilst I'm there. (But of course, I'll visit when I'm back home!)
Chiropractic has helped me because my body alignment and posture are improving, which has had a knock-on effect to my training too. Both Glenn and Laura are great, interesting people who love sharing their knowledge and helping us live our lives healthily! I'm really grateful to everyone at Shrewsbury Family Chiropractic, thank you!
Ellinor