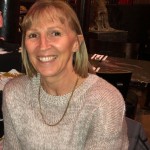 My name is Julie Southward, I am 58 years of age and I currently work as a 6th form Housemother at Ellesmere College, looking after 70 girls, age 16 to 18.
I keep myself busy by taking my daughter to swim training 6 days a week and also love to bake. I enjoy listening to music ranging from classical to dance, I like to keep fit and have currently started training for Couch to 5K. I'm aiming to join the gym in September as my daughter will be at University in America for 4 years & I will have plenty of spare time on my hands.
I was very nervous about Chiropractic Care, but after watching my husband and daughter having their treatment, I thought I'd give it a go as I'd had neck, shoulder & back pain for a few years.
The introductory talk was very interesting as it explained about the Chiropractic journey and it helped me to understand how the treatment could help me in other ways too. I am now more aware of my posture and the need for relaxation, which helps in general health and wellbeing.
Receiving treatment at Shrewsbury Family Chiropractic is amazing and the whole team make you feel at ease. The receptionists, Tracy & Naomi, always give a warm welcome and Glenn and Laura are brilliant. It is such a positive, happy environment to be in and I always leave feeling so much better after treatment.
I love to read the "Well Adjusted" newsletter as it is full of interesting information and stories from other practice members. I also hope to see more recipes in the future!
I have recommended others to attend the clinic for treatment and will definitely continue to do so as it's great and everyone should give it a go.
Julie