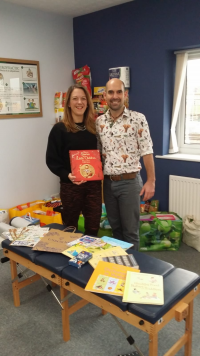 I am a part time teacher and an Usborne Book organiser. I love running, dog-walking and yoga. My initial reason for consulting Shrewsbury Family Chiropractic was because I was suffering with sciatica which made sitting for long periods of time painful. This made driving across the country to visit family hard work! I also suffered with back and neck pain for over a year after sleeping awkwardly whilst camping.
I didn't know much about chiropractic at all before attending the practice; a friend had just recommended it to me. I was hopeful for any improvement at this time so I gave it a shot. Attending the Introduction to Chiropractic made everything much clearer before starting my other visits. I always get a friendly welcome at the practice as it is such a relaxed atmosphere. I'm finally used to the odd noises too! I can now turn my neck to look over my shoulder which of course makes driving safer and it's much more comfortable lifting my boxes of books.
After seeing my improvements for himself, my husband Greg also booked in and he, too, has been having regular care. My visits to the practice are my self-care time and it has taught me to make more time to look after myself outside of the practice too.