by Nancy Cerritelli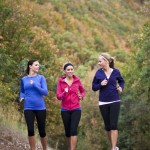 Friends. They are some of the most important people in our lives. They give us support and sympathy when things are tough, they laugh with us and celebrate with us, they share our highs and our lows. Where would we be – what would life be like – without our friends? Quieter, lonelier maybe, certainly less fun, and possibly a lot less interesting. No matter whether you have many friends or just a handful, they are the people we choose, the people we go to when we need to talk through a problem, or need a hand, or a laugh. They can help us examine ourselves more closely or take ourselves out of ourselves for a while. Whatever your friends give you – and it's a lot – they are worth celebrating. And we want the best for them – we want to do something nice for them. Because we love them. So, what better way of showing them that you care than introducing them to chiropractic. You enjoy your chiropractic care and you definitely feel the benefit of coming for regular adjustments but sometimes it can be hard to explain it to others so here are some reasons why your friends might like to come and join our family:
It's about more than bad backs – chiropractic can help improve not just specific injury but also your overall health and wellbeing
It's drug-free, natural, safe and based on research
It's all about supporting the nervous system to do its job better and without interference
It supports your body's innate ability to heal itself
It helps your body functions better
It helps your body bounce back quicker after illness or injury
It's all about how the relationship between the structure of the body and the nervous system affects health and resilience – if this relationship is healthy, wellness and vitality improve
It's an integral part of a healthy lifestyle
It's all about protecting your good health so you can fulfil your full potential
It helps you maintain a high quality of life, throughout your life
It helps you be the best version of you that you can be – by putting yourself first and investing in your own wellness, you will have more resources available to enable you to be a better parent, partner … and friend
Not bad, huh? We think that this is worth sharing with the people we love the most and we hope you do too. So, if you have a friend you want the very best for and who you think would benefit from chiropractic care, bring them along to one of our free 'Introduction to Chiropractic' talks to find out more about how chiropractic works, and how our practice works too. You will also get to meet some of the team and have a chance to ask questions.
Talks are held twice a week (please call for dates and times) and last around an hour. Give us a call  on 01743 588190 to book your places or ask at your next visit.
Nancy
31st July, 2018