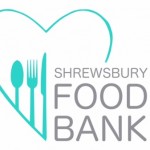 Our special Food Bank Day is fast approaching and we are busy getting the office ready for your visit on Thursday 7th December with all your lovely donations.
Today, we thought we would give you a bit of information about what they do at Shrewsbury Food Bank PLUS.
The food bank itself has have fed 1,727 people in 914 households since April this year. In October 191 people in 93 households received food parcels. But Shrewsbury Food Bank PLUS is so much more than that – as well as providing much needed food parcels, it also provides support to help people rebuild their confidence, learn new skills and get back into employment. There are several projects that run alongside the food bank:
360 Journey to Health – a gardening project and cookery courses that promote a healthy lifestyle by teaching people how to feed themselves 'from (gardening) fork to (knife and) fork'.
360 Journey to Work – a life skills course and breakfast drop-in building confidence, teaching interview and work skills.
Barnabas Money Advice – a free, unconditional, face-to-face personal debt advice service to help people get themselves out of debt and back on their feet.
Having been lucky enough to have been shown around the Barnabas Centre, we have seen what an amazing job all the volunteers do.  The generous donations of food from the local community and time from the volunteers enable Shrewsbury Food Bank PLUS to help and support anyone in need.
Want to join in?
There are several ways you can help us support Shrewsbury Food Bank PLUS this Christmas:
Book an adjustment on Thursday 7th December and pay for it with a £30 food parcel. Give us a call and make your appointment now!
Pop in with a food donation on the 7th December even if you are not getting adjusted – we'd love to see you.
Refer anyone you think could benefit from chiropractic. If they come in for their first appointment between the 4th and the 9th December, we will accept a £35 food donation as payment.
Pop a cash donation in one of our piggy banks next time you're in the office – we'll make sure all donations are passed on to the food bank.
*Please note: although Thursday 7th December is our official Food Bank Day when we offer adjustments in exchange for food parcels, we will make sure any donations you wish to make are pa
ssed on to the food bank.
Call Tracy or Nancy on 01743 588 190 today to make your appointment

 The kettle's on and the Christmas treats are waiting