Find out how our sponsored rider achieved Gold and Silver in Germany: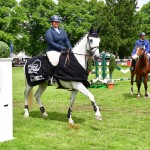 "I am a Grade II Para Showjumper from Shropshire who suffers from relapsing remitting multiple sclerosis. I was selected to represent Great Britain at Pferd International in Germany on my mare 'Guusje', para show jumping. We attended the competition at the end of May. Preparation for the event took over two months to ensure both myself and my horse were in top condition and as prepared as possible for a prestigious international event.
Over the two months, we had lots of show jumping training, attended UK day shows and stay away shows every week to prepare the horse. We were getting her competing in as many different atmospheres as possible as, being a relatively young horse, she is still very spooky. We are a new partnership, still getting to know each other and so wanted to have as much ridden time as possible. We also trained on grass surfaces to ensure we were prepared for the ring in Germany.
We were treated as a partnership by Elite Equine Therapies, receiving sports massages and various other treatments to ensure our alignment was correct and we were in the best position possible. They also provided many different techniques and training, to help with ride confidence and dealing with competition nerves. I had personal training twice a week to ensure my fitness was at its best and my muscles would be able to cope with the high intensity of competing. I also did equi-pilates with Fit2Ride weekly to help with my balance, alignment and strength. I have monthly intravenous transfusions of Tysabri at The Walton Centre in Liverpool to keep me on the road and reduce my chances of relapsing. I visited Glenn at Shrewsbury Family Chiropractic for weekly checks and adjustments to keep my body in alignment and working as it should. This helps with my MS symptoms and has improved my back pain considerably. In the week running up to the competition, Glenn checked me twice to ensure I was in the best condition and prepared for what was to come.
It took three days to travel to Germany with the horsebox, including a ferry crossing from Dover to Calais before continuing our drive to Munich, Germany. On the Tuesday, we were extremely fortunate to have the opportunity of some show jump training with the World Champion German Show jumper Simone Blum and a tour of her incredible yard, meeting her champion horse 'DSP Alice'. It was a once in a lifetime experience and amazing to see!
The first day of competition took place on the Thursday where over 13,000 visitors were in attendance. The competition on the first day was 'optimum time' (where you had to complete the course of show jumps as close to the chosen time as possible). We completed a clear round 1 second off the optimum time which landed us in 2nd place; I was the highest place Great British rider and lady rider. The second day of competition on the Friday was a speed class, so fastest wins! We were delighted with our second clear round of the competition and ended up WINNING! We were awarded with a rug, gold rosette, prize money and gifts including riding attire and horse feeds. To come home from our first international competition with a gold and silver for Great Britain so early in our partnership together really was incredible and a dream come true. I really can't thank everyone who played a massive part (especially SFC) in ensuring we were in the best condition to go and for all of the support prior and during the competition!"