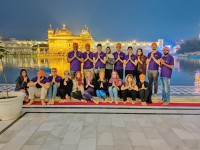 In November, I travelled to the north of India (Amritsar) to serve as a chiropractor. We were blessed to be able to serve the Sikh community with chiropractic care only 500 meters from the Golden Temple. This is the Sikhs' holiest place of worship – and grand it was. We were able to walk around the Temple during the evening prayers, which was something unbelievable. Although I am not particularly religious, I was able to be there and appreciate their spirituality and dedication. We had the opportunity to go onto the top floor and sit in quiet thought. I remember reflecting on what had been the first day of adjusting and serving the community – how grateful the community was for our presence, and how we were able to touch and change so many lives. There was so much poverty, it was quite eye opening. I felt so grateful to be able to help everyone that came our way. Whilst sat in the Temple, I reflected on how blessed we are not living in the extreme poverty that some of the individuals that I had cared for were in.
There were also many with disabilities – some with missing limbs or speech impediments. In their community, they are unfortunately outcast. Many see their disability as God's dissatisfaction with that person, hence they are treated differently. It goes without saying that we cared for each person individually, regardless of their differences. I was there to help anyone and everyone and I was very lucky to do so.
There were 19 chiropractors on the trip but, unfortunately, 5 got sick with the dreaded sickness bug that us westerners are susceptible to. On day 2 we were severely down in numbers, but that made me more determined to stay focused and serve as best I could. Over three days we cared for 3500 people. That number is difficult to comprehend but we worked hard with our heads down and focused. So focused that I managed to get into trouble with one of the volunteers who was helping us because I was told that there was tea at the back of our space and that I should take a break – I replied with, 'ok, but one more person first'. That apparently was not the correct answer. I was physically turned and gently pushed to the tea – there was no chance of me looking after one more person.
On our final day in Amritsar (which was a day of exploring) we were about to set off in a taxi when someone started banging on the window from outside. I looked up and saw one of the women that I had looked after a few times. She started mimicking a neck adjustment – I asked her if she was good (the universal sign language of a thumbs up) to which she started shouting, 'Yes! Yes!' and what I can only describe as dancing around in the street. That was a beautiful moment of realisation that we really did make a huge difference.
It was such a humbling experience for me and the other chiropractors, one we will never forget! This will keep me focused and it has reminded me of my reason for being a chiropractor – to be able to help anyone and everyone reach their full potential as a human.                                                                                                                                                                                         Laura