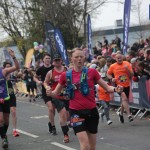 So here we are. My body is recovering from the marathon, my legs no longer hurt, and I've been able to reflect on what it was actually like to run a marathon. Something I thought I could never do, something that seemed silly and out of my reach. But I made it happen. I found a way to be able to run the marathon. I stopped telling myself all those daft little reasons as to why not, or why I shouldn't.
I couldn't possibly run for maybe 5 hours?!?
What about training and work? I would be using up my energy in running rather than serving as a chiropractor.
Could I really be THAT motivated to complete the training needed?
What about my ankle? Would I be doing more damage than good?
After realising that these were all obstacles that I COULD overcome, I set a plan into action.
I started my training in December for the Marathon on the 7th April. I spoke to my personal trainer, who has been amazing at helping me through these past few months, and formulated a training strategy. And I made sure I had regular appointments with my chiropractor – Dr Glenn. Come race day, I was all set. I arrived at the starting line around 8am, and then it was a waiting game until 9am (the start time). The atmosphere was amazing – I love being a part of a huge group of people, all with the same goal as yourself: finish the marathon and have fun. Although, on reflection, I'm not sure how much fun I had (more on this later!). The weather was quite chilly, waiting for the start, just a stone's throw from Old Trafford – there was quite a bite to the breeze that morning.
The first few miles seemed easy. This is the trap that most first-timers run into (no pun intended). With the excitement and atmosphere of the crowd (who were out in force!!), I flew through the first half of the marathon. It was at this point I was realising my mistake – too quick, too soon. My body (and legs) still felt good, but I really tried to slow the pace to make sure I could get to the end. But the race progressively got tougher and tougher. Someone described it to me as if someone is slowly filling up your rucksack with sand, which weighs you down, more and more… This is definitely what I felt.
At mile 24, I stopped to use the facilities, and I just couldn't get going again. I walked a while, sent a text to my partner, Matt, saying: '24 miles. Struggling. Must keep going.' To which he replied 'nearly there, keep going, you're doing so well'. And, well, what else can you do but keep going after that? So I managed to get my legs moving more, back into a jog, but my brain kept telling me that there's no way I could finish the last 2 miles. I've found a really grumpy-looking picture of myself around mile 25, which I think speaks a thousand words.
When I turned onto the final straight, I said 'This is it! I can do this!!', so I sped up, and a short while after realised that it was actually a very, VERY long final straight (almost 1km I think). But I got there. Again, the emotion in the picture of me crossing the line says it all. I had tried to raise my arms above my head in celebration, but gave up half way through. I was also trying to not cry in pure relief that it was finally over.
My mum and dad had been keeping an eye on the online tracking, as they were unable to be there with me at the end, so it didn't take long for a congratulatory message to come through. My response isn't exactly something I can share on here. It goes along the lines of 'Gosh! That was hard'…… I then went round to meet my nana and Matt who were beaming as I gave them hugs. The strangest thing was how surreal it felt, to have finished, but to be not moving any more. And I was very glad to get home – the best way I can describe it is that I was dazed. Not 100% there. I popped into a pub to use the bathroom, and a complete stranger grinned from ear to ear whilst congratulating me. I managed to stop myself saying 'what for?' It was all a bit strange.
The next thing was getting some food into me. But I wasn't hungry. Not one little bit. And the thought of food was actually a bit nauseating. But I made sure I ate as much as I could manage, as I knew I needed to. Over the next few days, it was about eating, resting and stretching. Getting my body back to some form of normal.
Having a look through the pictures from the marathon definitely brought back memories of how tough it was, but also how much of an achievement completing the marathon was. I've already been asked if I'm going to do another marathon. My response – too soon! It's still too soon!