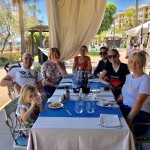 Wow, where do I start? ChiroEurope was amazing! I learnt so much more about chiropractic and even about myself. It was super inspiring to hear about other chiropractors' experiences and also miracle stories which took your breath away.
We laughed, cried and partied (obviously after the seminars had finished) and have brought many exciting ideas back with us which will help us to serve you better. There was so much love within everybody there, all 750 of us! The team had spoken about ChiroEurope being a big family but you really can't imagine quite what they mean until you are in the centre of it all.
One of the activities we took part in, which to be honest I wasn't sure about as I hadn't done any before, was meditation. I surprised myself and actually really enjoyed it. It was a walking meditation on the beach (so we did get some funny looks from local residents!) but that didn't faze us one bit. It was a reminder that it's important to take a moment for ourselves sometimes. After all, how can we look after our practice members if we don't look after ourselves?
There was so much to take in over the weekend but one quote that stayed with me was, 'If you don't believe in miracles, perhaps you have forgotten you are one'.
Naomi