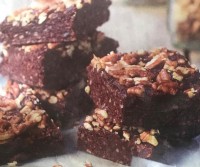 A way to give in to your sweet tooth but staying healthy at the same time – is there anything better?! Helen Goodall has kindly shared this quick and easy recipe with us all. Walnuts are one of the most nutritious nuts, containing the most omega-3. Thank you, Helen, for sharing this with us!
Ingredients
115g Walnuts
235g dates, pitted
110g almond butter
50g unsweetened cocoa powder
38g crushed pecans
 Method
Process the walnuts and dates in a food processor until finely ground.
Add the almond butter and process until well mixed then add the cocoa powder and pulse to mix well.
Transfer to a 20cm square baking tin lined with baking paper. Use your fingers to press the mixture evenly into the tin. (Top tip: use some baking paper on top of the mixture as you press it into the tin so it doesn't stick to your hands.)
Once the mixture is firmly pressed into the tin, sprinkle the top evenly with the crushed pecans, pressing them into the top of the brownies.
Cover and refrigerate for at least 1 hour before cutting into squares.