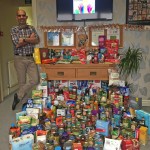 Every December, members of the United Chiropractic Association (UCA), including our very own Drs Glenn and Laura, donate a day's work by providing chiropractic adjustments in exchange for food parcels.
 One in five people in the UK – that's around 13 million – are now living below the poverty line and 1 in 5 parents have skipped meals or gone without food so their children can eat.
If you're booked in for an appointment with Glenn or Laura on Thursday 1st December, instead of payment, we ask that you bring in a food parcel to the value of your adjustment visit. This will then be donated to the Shrewsbury Food Bank in time for Christmas.
DO YOU HAVE A FRIEND OR FAMILY MEMBER THAT COULD BENEFIT FROM CHIROPRACTIC?
From 28th November to 2nd December 2016 we are offering any new patients an 'Initial Consultation' in exchange for a £30 food parcel. This will save any friends & family you refer £15 as well as allowing them to help someone else this Christmas. If you know of anyone who could benefit from chiropractic care, please refer them to us to book in on 01743 588190 (Thanks in advance!)
Practice members not booked in on 1st December are also welcome to donate
With your help, we will be supporting some of the most vulnerable people in the local area this Christmas.
You are therefore invited to make an appointment to see Glenn or Laura on Thursday 1st December and, whilst you're here, join us for a hot cuppa and a chat.
We look forward to seeing you all then
Shrewsbury Food Bank Plus not only provides food parcels to those in need but offer so much more, from teaching people how to cook and grow vegetables, to money advice and support to help people help themselves in the long term.