by Dr Glenn Fredericksen
It's Healthy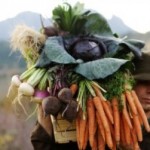 Eating Week so I thought I'd share this article I wrote some time ago about why I choose to eat organic.
A friend of mine was interested as to why I choose to eat organically when it's available. So here's some information that has helped me to make my decision and lean towards an organic lifestyle.
As a chiropractor I favour the natural approaches to health
Regular chiropractic care in conjunction with a healthy diet, exercise and a positive mental attitude all help to ensure you maintain your health for far more years than any pill. As part of this healthy lifestyle I believe that the fuel we put in our body must be of the highest quality – and organic!
Looking after the natural environment, being concerned about animal welfare and climate change are all factors for choosing organic products. Here are some of the ways the Soil Association, one of the UK's organic certifiers, ensures we are looking after ourselves and the environment:
Fewer pesticides
No artificial additives or preservatives
The highest standards of animal welfare
No GM ingredients
No artificial fertilisers – many are oil based
No drugs, antibiotics & wormers
Along with not requiring oil to produce fertilisers, organic farming is also superior in trapping carbon in the soil so is a great method to help reduce our carbon footprint. About 30% of each individual's carbon footprint comes from the foods they eat so if climate matters to you then why don't you think about buying organic food. If your health is equally valuable to you, then come in for an adjustment! Otherwise, look out for updates as we explore more reasons why you should join us and choose a healthy (and organic) lifestyle that supports your body to support you.
Shrewsbury Family Chiropractic enjoys helping people with a natural approach to health and well-being focusing on healthy nervous systems in conjunction with nutritional and exercise advice.
CALL NOW to book your place on our free Introduction to Chiropractic talk where you can find out more about how we can help you live to your full potential.
Glenn Fredericksen
13th June 2018