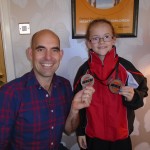 This is Saphia, one of our young practice members and a talented karate kid. We asked Saphia to share her chiropractic story; this is what she said:
"My name is Saphia Edwards (9). I am a pupil at Minsterley Primary School. From the age of six I suffered very badly with migraines. After a number of unsuccessful appointments with my GP, my parents seeked Glenn's advice and came to the decision to try chiropractic treatment. It was ultimately the best decision as I no longer suffer.

From early 2015 as a beginner, I joined MD Warriors Martial Arts (karate). September 2015 I achieved my first belt – yellow. Since 5 December 2016 I have been training towards my green belt.

In this picture, Glenn and I are proud to hold my medals for grappling, elbow kata and takedowns which I won at the Medal Rush competition Oswestry in October 2016.

Receiving treatment from Glenn helps me to keep my migraines away and to be the best I can be. I am very lucky and most of all excited to have the pleasure of Shrewsbury Family Chiropractic as my main sponsor."
Saphia, we are very proud to be your sponsor and congratulations on the bronze medals you won at The British Open Championship last weekend!