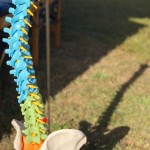 We have wrapped up our second year at The Shrewsbury Flower Show! And what a weekend! The weather was a right mixture, torrential one minute, beautifully sunny the next. Whatever the weather one thing was certain – when you looked around people were enjoying themselves.
Thank you to all our existing practice members who came over to say, "Hello". It was wonderful t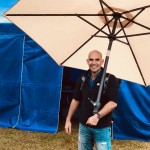 o see you enjoying life outside of the practice. Between us we spoke to over 200 people spread over the two days some local and some from further afield. We helped those who were from out of town find a chiropractor near them referring them to our find a chiro website, while many of the local residents will be coming to see us in the office. If you see some new faces, do help us make them feel welcome.
Over the two days of the Flower Show we all had many interesting and positive conversations about the health and lifestyle benefits of chiropractic – spreading awareness of chiropractic is one of our favourite things to do and we had a lot of fun! You can be sure to see our big blue tent at the Shrewsbury Flower Show again on the 9th and 10th of August.
We look forward to seeing you in the office soon and, if you see any new practice members, please welcome them to the office, and perhaps share your experiences of chiropractic care with them.