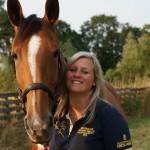 We are excited and honoured to be sponsoring Laura Goodall, a Grade 4 Para Equestrian and member of the British Show Jumping Para team and the Perry Riding for the Disabled Group (RDA). Perhaps you recognise her from our winter newsletter? Having been diagnosed four years ago with multiple sclerosis, a neurological condition which affects the central nervous system, she has been doing everything in her power to improve her health and fitness in order to compete at the highest levels. This is what she has to say about her health, riding, chiropractic and sponsorship:
"Since my diagnosis, I have fought a difficult battle but in the last year, all my efforts to get fit and healthy enough to be able to compete and pursue my dreams are now starting to pay off.
I first visited Shrewsbury Family Chiropractic back in August this year and have never looked back since! Glenn has worked his 'magic' and transformed my day to day life with improvements in my health, fatigue, strength and balance and it feels amazing that my back pain has almost gone.
I am thrilled that opportunities have arisen for me within the equestrian world since my diagnosis and I am now a member of the British Show Jumping Para team and the Perry Riding for the Disabled Group (RDA). I predominantly take part in British Show jumping and National Para competitions all over the country. I have a great team of three competition horses who are all at different stages of their careers, all with great potential for our future in para competition. I have many goals and competition opportunities for the coming year and due to the support of Shrewsbury Family Chiropractic, I now feel that I can achieve these goals with the best possible chance at doing something that twelve months ago, I thought I would never be able to do again! Due to my adjustments keeping me in good physical shape, I feel I am in the best hands to keep my body and health in as best condition as possible and for this I will be forever grateful. I look forward to the future working with Glenn and his team and am very thankful for their support of my journey into the Para Equestrian world and hope to keep you all up to date with my progress!"
Laura is an inspiration and we look forward to updating you on her upcoming events and competitions.