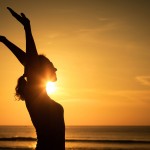 by Nancy Cerritelli, Life Coach & Chiropractic Assistant

I've recently been on holiday – 2 weeks in Croatia. We had a wonderful time. The first week was primarily about winding down and resting but, as we moved into the second week, an interesting thing happened … I became reflective – and creative. I was inspired by the colours of the sea and the sunsets and thought I might like to learn to paint watercolours or take proper photos so that I could capture them (really most unlike me!).
We started to talk about improvements we'd like to make to 'real life' – eating better, exercising more, getting fitter and healthier. It was as if taking time to really and truly stop allowed us to catch up with ourselves and process all the outstanding 'stuff' we'd not had time to deal with, that we'd been putting off until later. That first week gave us the chance to 'declutter' – getting rid of what we no longer needed so that, in the second week, we could suddenly see what we had been missing now it was no longer buried under all that other stuff. There was suddenly room to breathe and reconnect with who we are and what we want from life. With the decks cleared, things seem possible again and that is a very creative and motivating place to be.
It's easy to get bogged down in the busyness of life and not make the time to connect with what you need and want. Health goals slip, life's obstacles are more likely to trip us up or slow us down. Our busyness suppresses our ability to come up with creative solutions to sticky problems.
But what happens when you don't have the luxury of taking two uninterrupted weeks to recover? Well, we have a couple of things on offer that could help:
Take Control of Your Health Workshop
Wednesday 28th June, 6pm-8.30pm
Open to existing practice members only
Free
This is an opportunity to look beyond your chiropractic care at your overall health and wellbeing: how stress is expressing itself in your body, how your bad habits are contributing to your state of health and how you can adjust them to make shiny new habits that support your health now and into the future.
One-to-One Life Coaching with Nancy
Open to all
£150 for 4 weeks coaching
 We are now offering a focussed life coaching package with Nancy, our chiropractic assistant and qualified life coach. Coaching could work for you if:
You are feeling stuck on a particular problem – it could be health but it could also be work, love, family, a mental block – in fact, any situation where you are struggling to find a way forward
You have a habit, pattern or situation you want to resolve but can't figure out where to start
You know what you need to do to change things but are finding it hard to actually do it
For a one-off fee of £150 you will receive four 1:1 coaching sessions with Nancy – once a week for 4 consecutive weeks. She will help you define what you want to get from the coaching and then work with you to help you find creative ways of achieving it, unstick yourself and put in place structures to help you sustain the changes into the future.
If you are interested in either of these, please ask us for more information or to book you a place.
Nancy
9th June 2017