We have asked Tracy to give us her top tips for a stress-free Christmas. With her and her husband, Martyn, and four boys in tow, we think she has mastered Christmas over the years. I'm sure we can all pick up a handy hint!
"Christmas is only ?*?# days away" is a common thing we all hear at this time of year!
Instantly, we feel that we need to get organised…now! Christmas goods, gifts, cards etc have been in the shops since the kids went back to school, quietly adding on the pressure. TV adverts make us feel we should be out buying presents. Financial pressures also often add to the stress.
Christmas is meant to make us feel good, but it can do the opposite.
Christmas is a lovely time for spending quality time with family and friends. So, this year, let's take the stress out of it. Keep it simple! Some of these points may seem obvious, but sometimes, we just need a reminder:
Learn to say 'No!'. We are all good at agreeing to do certain things or go places that we really don't have time for.
Keep it simple – sometimes, the simple ideas/presents (especially homemade!) are the best.
Go to bed early – Christmas TV viewing can be tempting or writing those Christmas cards for example can leave us burning the candles at both ends. A good night's sleep works wonders and leaves us refreshed and ready to go. J
Make time for you! Whether it be putting on your trainers and going for a brisk walk or run or snuggling up with your favourite book (phone off) for a while.
Wear flat, comfortable shoes/boots for all the shopping/running around you will be doing. Balance shopping bags evenly to distribute the weight.
Stretch gently to relieve those tired muscles after shopping or putting up Christmas decorations.
Keep hydrated – it is just as important to keep up your water intake in the winter as it is in the summer. The cold weather dries out our skin; water is needed to keep our bodies hydrated inside and out.
If anyone offers you help in any way – accept it. J It's OK to have a helping hand.
Book in an extra chiropractic adjustment to give your nervous system a boost.
Most importantly – Have fun and relax.
Finding the JOY in Christ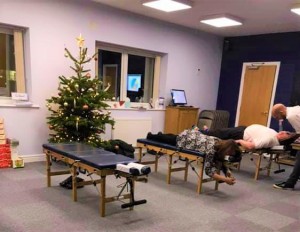 mas:
Try to cherish the extra tasks, such as baking and organising the Christmas dinner, as fun time away from technology. We love to get the kids involved in baking and decorating cakes – for us, the family Christmas preparations are the most exciting times.
Putting up the Christmas tree and decorating the home is an event in itself J. Another fabulous time for family members of all ages to be involved in, yet we bend, stretch and balance our bodies in all sorts of fabulous ways – take it easy and don't forget we can give you a check to help keep your body well so you can enjoy all your festivities.
Family Christmas walks are a wonderful way of forgetting the hustle and bustle for a little while, whilst getting fresh air and exercise into the bargain. Adding a skipping rope, frisbee, space hopper, football etc is a great addition to the Christmas gifts for kids, encouraging them to get outside and run off the extra goodies that we all eat at this festive time.
We will be in the office as normal, right up until Christmas Eve lunchtime, so there's plenty of time for you to get in a Christmas present to yourself – an extra chiropractic adjustment in December!
Tracy