by Tracy Williams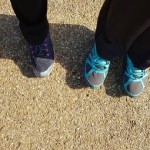 Over the last couple of months we have been trialling our new walking club – with, it has to be said, only limited success. However, we have learned a bit along the way and now it's time to regroup, relaunch and put our best foot forward!
We learned that 9am is a difficult time for many people – if you don't have to be at work at 9.00 then you're either in the middle of the school run or your day just hasn't started yet so, from 11th June, Walking Club will meet
Every Monday Lunchtime

Meet at our office at 12.30pm come rain or shine*

*so come prepared with wellies or sunscreen
Why walk …
Walking is free
Walking improves your fitness
Walking improves your health
Walking improves your mind
Walking decreases your chance of getting seriously ill
Walking helps you lose weight
Walking helps you feel better about yourself
Not only that but, by walking in a group, you may also
Find it makes it easier to keep your commitment to yourself to get out and moving
Meet new people who share your interest in walking and in chiropractic – your 'ChiroTribe' if you like
Find that your ChiroTribe supports, encourages and motivates you to meet your goals
Have interesting discussions about wellness, vitality and chiropractic
Share tips, advice, recipes – anything really – with your new tribe
Find an exercise (or walking) buddy
The Walking Group is open to any of our existing practice members and their guests, the more diverse the better so, if you are:
A parent with a baby or toddler in tow – come along as far as the play area in the Quarry
Retired and want to improve your fitness – join us. The pace will be set by the group
A friend of one of our practice members, are curious about chiropractic but not quite ready to come along – we'd love to meet you
A wage slave who needs an excuse to get out of the office during your lunch-hour – please come along and energise yourself for the afternoon to come
13 years ago, I broke my ankle in 3 places.  Now fully, pinned, plated and bolted, it still gives me a bit of bother.  I have promised myself for years to do more walking, to help strengthen my ankle. So, when Glenn suggested I take on the Shrewsbury Family Chiropractic Walking Group it seemed like the perfect opportunity – no more excuses! The first few walks we did, (if I am honest) did play havoc with my ankle. By evening, it was swollen and sore and I was still struggling for the first few days afterwards. A few weeks in, it has certainly improved – yes, it is still sore and swollen in the evening, but not as much and it recovers more quickly than before.  Which just goes to show that keeping to a plan really does work.
Start your week off right and join us for a walk – make it a reason to commit to your personal goals, meet other members of the ChiroTribe, share your chiropractic story, offer support to each other and share your inspirational ideas, whether it be healthy recipes, exercise ideas or personal goals.
If we get a few loyal attendees, we can look at introducing a weekly step challenge and maybe even create a 'walking group Facebook group' so you can stay in touch with each other between walks.
Please note that we will be trialling Walking Group until the end of July so, if it is something you value and would like to see continue, don't wait! Make our Monday lunchtime walk part of your weekly exercise routine – now!
Tracy Williams
7th June 2018