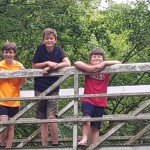 The time is fast approaching when school bags are emptied and put to the back of the cupboard (or binned), bedtimes are far more relaxed, and family holidays or days out are the topic of conversation.
At the start of the six weeks, it seems like we have such a long time, but that first day back at school in September approaches quicker than we expect.  So, how best to get the most out of the time?
As a mum of four boys, days out are a wonderful way to forget housework chores and spend quality family time together.   Whilst the theme parks, jumping parks, climbing walls and zoos are great fun, there are so many wonderful other types of active days out too.  We love packing a picnic and heading off for a day at the beach or a particular favourite of ours is Carding Mill Valley.  Our boys love a mixture of sliding down the hills on sledges or cardboard and building dams in the stream that flows through the valley, where their wellies invariably become buckets.  After fresh air in abundance and changing out of wet clothes, we head home with tired children.
Other ideas are beautiful walks around places like Attingham Park or Haughmond Hill, fun in Shrewsbury Quarry, bike rides, visiting local swimming pools or even a chilled-out day in the garden at home.
Getting involved in events in your local community is another lovely idea.  Our local area holds a cycle treasure hunt every year which is always a great day.
Please feel free to share your favourite family days out with us all, as you may have a little hidden gem which you would like to share.
Hope you all have a wonderful summer, and we look forward to seeing you and your families when you come in for your summer chiro checks!
Tracy