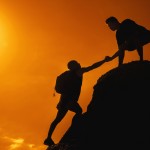 Many people know that Dr Glenn and Dr Laura recommend a monthly visit to be proactive with your health, and maintain the positive changes already achieved. But as you also know, initially you have to put in the hard yards to gain those fantastic improvements. As we say in our office, 'the body needs time and repetition to adapt and heal'.
But when is the best time for a check and an adjustment? 
Throughout a person's chiropractic care, most people stick rigidly to their fortnightly or monthly visits. But did you know that it's beneficial to have a 'top up' check as well as your usual visit? I know from experience that I always want to be checked right before a race or run. After months of training, I want to make sure that my spine and nervous system are working at their very peak for race day. I also get checked on the Monday following the race so that my recovery is as quick and full as it can be.
We also look after a lot of mums throughout and after their pregnancy, because guess what? Pregnancy is pretty stressful on the body! Chiropractic care during pregnancy (and labour!) has been shown to increase the chances of having a natural birth1,2. In one study, 'the midwives report significant improvement in labor progression since time of chiropractic adjustment' 1. How awesome is that?
But what about other events? We recommend checks before big milestones like weddings, Christmas or even exams. If you're a little run down or coldy, or have a big physical project on the horizon, getting an additional check could help you get through.
The chiropractic adjustment restores balance and ease in the body, allowing your body to function at its maximum potential. That would be pretty awesome right before an exam, right?
Give Tracy or Naomi a call to book in for your top up adjustment 01743 588190.
1. Alcantara, J., Ohm, J., and Ohm, J. (2009) Chiropractic Care of a Patient with Dystocia: A Case Report. Journal of Pediatric, Maternal and Family Health 1:1-5
2. Alacantara, J., and Hamel, I. (2008) The Chiropractic Care of a Gravid Patient with a History of Multiple Caesarean Births and Vertebral Subluxations. Journal of Vertebral Subluxation Research. 11:1-5