Here at Shrew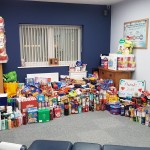 sbury Family Chiropractic, we are very proud to have supported our local food banks every December for the last 5 years. As we head into our 6th year, we thought we would share the reasons why it is so important to us.
In our ever-changing world, more and more families and individuals find themselves turning to the care of a food bank. It can be people from ALL walks of life. From families who rely on help from our welfare system to professionals who find themselves struggling from a number of reasons, such as sickness, moving home, bereavement, loss of job or family breakdown, to name a few reasons. Some people only need to visit a food bank once, whereas a number of people may need to rely on them for longer. Either way, having the food banks there is a saviour to many.
So, every December we hold our 'Annual Food Bank Day'. Our chiropractors, Dr Glenn and Dr Laura, donate a day's work. Our practice members book as normal and come in for their chiropractic adjustment visits, but instead of paying the normal charge, they bring in a food parcel to the value of their visit instead. Throughout the day, we love to see the pile of food grow as practice members unpack their shopping and add it to the donations pile! The first and second year we donated to the Trussell Trust group in Oswestry and Whitchurch, with the last 3 years, all our donations going to Shrewsbury Food Bank. We love our friendship with them as they offer so much to the local community.
Shrewsbury Food Bank PLUS
Community organisation, for the community, within the community and supported by the community.
 Our local community is extremely fortunate to have the services of Shrewsbury Food Bank PLUS. They are part of the Barnabus Community Projects group, based in Longden Coleham, Shrewsbury. It is volunteer-led by a committed team who give their time and skills throughout the year.
Their last business year ran from April 18 to April 19 and saw 555 families get help. In total, 1219 people benefited from using Shrewsbury Food Bank at least once, most more than once. Of these, 704 were adults and 515 were children, excluding the Christmas campaign. To obtain a food parcel, you need to be issued with a voucher given by an agency or GP but do contact their team for more information.
Christmas is always an extra busy time for the food bank team. In addition to the normal food parcels, other families are nominated to receive a Christmas hamper. In 2018, 112 families received their Christmas meal from Shrewsbury Food Bank, with 201 children receiving their Christmas presents through their annual Christmas Appeal. An amazing 3920kg of food was given out at Christmas 2018 alone. Here at Shrewsbury Family Chiropractic we collected a MASSIVE 1415Kgs of food at our 2018 annual food bank day. A huge thank you to our wonderful practice members (and of course Dr Glenn and Dr Laura for their time). It took 4 volunteers 4 hours to collect all the food from our office!
Karen Williams from Shrewsbury Food bank PLUS says:
"This year we saw a significant increase of usage after Christmas, peaking in March 2019 with double the usage compared to December, (excluding Christmas Hampers). This level is unprecedented with over 4000kg of food being issued in March 2019 alone. The huge and timely donation by Shrewsbury Family Chiropractic meant we had the resources to serve this need into the new year."
Providing a food parcel is just one of the many services Shrewsbury Food Bank PLUS offer. They help people make positive changes to their lives with a variety of different courses and services and are also there for anyone who would like a bit of company in a social way. Here are a few of their groups:
Shrewsbury Food Bank- Providing food parcels to families in need.
Platform 360 Journey to work- A 10-week one-to-one life skills course to help people get back into the working world.
Platform 360 Journey to health- A 6-week one-to-one cookery course, building confidence and learning cookery skills on a budget.
Platform 360 Back Garden- A 10-week one-to-one confidence building course learning gardening and woodworking skills.
Barnabus Money Advice- A free, unconditional, personal debt advice service.
They also run Barneytotstoddler group and Café+ social group for the over 60's.
Mini kitchen packs for those living in temporary hostel or hotel accommodation can also be provided.
Take care and hope to see you soon,
With love from Tracy and all of us at Shrewsbury Family Chiropractic.